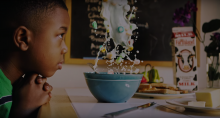 However, even among multi-tasking, family-oriented comic book stars, Nicole, the star of the new independently published series Raising Dion, is unique. A widowed, black single mother, Nicole has no superpowers of her own. Her son, Dion, is the one with emerging superhuman abilities.
The comic, created and written by Dennis Liu, aims to show readers what it's like to raise someone who may become the next great superhero...or the most terrifying supervillain the world has ever seen.
The first issue of Liu's new comic (available as a free download from the author's website) introduces readers to Nicole and Dion, and tells the story of how Nicole met her husband Mark, Dion's father. One night, on a camping trip, Mark witnesses a strange phenomenon in the sky, and is struck by a powerful flash of light. Whatever side effects Mark picks up from his experience, he passes on to his son when Dion is conceived.