comedy slam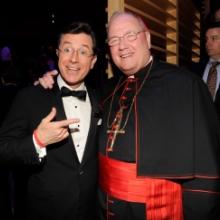 News that Comedy Central star Stephen Colbert and New York Cardinal Timothy Dolan would appear together on a panel on faith and humor next month was greeted with widespread anticipation: Both men are devout Catholics and pretty darned funny.
But now this tale has a surprising punch line that will surely make a lot of people unhappy: Organizers of the Catholic comedy slam, set for Sept. 14 at Jesuit-run Fordham University in New York, have announced a total media blackout of the event.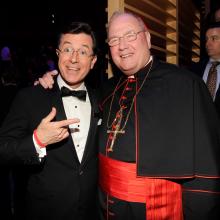 NEW YORK — So who is the funniest Catholic in the Western world: New York Cardinal Timothy Dolan or Comedy Central's Stephen Colbert?
It's a tough call for anyone who has followed either man's impressive record of rim shots, but we may finally get an answer to that urgent question when the cardinal and the comedian team up for a panel on faith and humor this September at Fordham University in the Bronx, N.Y.
"I'm looking forward to a great conversation with a terrific theologian and a gifted comedian. They are both," quipped the Rev. James Martin, a Jesuit priest and popular author. Martin will be moderating the Sept. 14 event, titled "The Cardinal and Colbert: Humor, Joy, and the Spiritual Life."
Martin's recent book, Between Heaven and Mirth, explores the relationship between humor and faith, and the priest said that the panel wouldn't be just a couple of Catholic tummlers yukking it up for the audience – or distracting the public from the many controversial stories about the church.
"This is just what the Catholic Church needs," said Martin, who has been on The Colbert Report so many times that he is called the official chaplain of the Emmy-winning news parody program. "Being joyful does not mean that you overlook suffering or pain or even scandal."