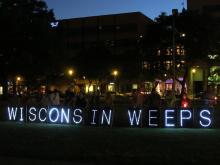 I heard about the shooting at the Sikh temple in the middle of leading worship. It was the same space where two months ago we buried a child killed by gun violence. It was the same space where two weeks ago we prayed for the community of Aurora. And now we were gathered again and like the family of an addict we were left with the pain of a destructive lifestyle.
We wept. We prayed. We sang.
I stood up and said, "We have prayed. And there is power in prayer. Change can happen with prayers. And we pray for brothers and sisters who worship a different God than ours and yet we call them our family. We pray for the shooter because we are taught to pray for our enemies. But prayer is not enough."