coal plants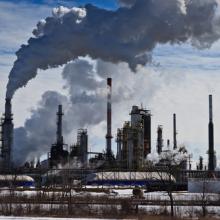 Forget about future generations – climate change is already hitting poor people around the world, not to mention contributing to natural disasters in the U.S. from New York City to Arizona. Apparently that's not enough for some members of Congress, who have chosen to use their authority to try to block any and all attempts to do something about the problem.
Earlier this month, President Barack Obama announced a major, comprehensive plan of action on climate change – changes that would do much to protect human health, the poor, and future generations by mitigating some of the worst impacts of climate change. A central part of the plan is to address climate pollution at its largest source: coal-fired power plants.
Unfortunately, many members of Congress are already taking steps to decry the president's plan as a "war" – on coal, on American energy, and yes, even on America itself. Leaders from John Boehner to Michele Bachmann to Joe Manchin have made it pretty clear that they view attempts to care for creation as an assault on our country.