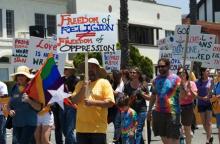 The notion of religious liberty has lately conveyed an impoverished attitude toward the common good among Christians. Namely, "we'll pay for what we like, and won't pay for what we don't."
This stubbornness cropped up last week in College Station, Texas, when the student senate at Texas A&M voted for students to have the privilege of diverting tuition payments from services they object to on moral grounds. Named the "Religious Funding Exemption Bill," the broadened proposal's original language ("GLBT Funding Opt Out Bill") specifically targeted funds going to the campus' GLBT Resource Center.
Missing from the media coverage was a real look at the bill's usage of religious exemption — or more specifically, its misuse. In its bill, the student government at A&M confused religious liberty with religious control, and managed to do a good degree of community damage in the process.