Church World Service
World Relief, a Christian humanitarian group, resettled twice as many refugees to the U.S. in September as it had in August, an increase that foretells a more robust resettlement pace for the nation in general.
The evangelical nonprofit — one of the nine groups entrusted by the federal government to resettle refugees — found homes for approximately 1,400 people in September. That's about 14 percent of the total refugees it resettled in the past year.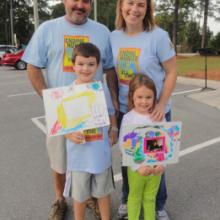 My child ate today. Breakfast was pancakes and sausage.
Walking to school I said, "If you don't like the leftover hamburger that I put in your lunchbox, just buy something from the cafeteria. You have plenty of money in your account."
Tonight we will have tacos, but if I am too tired to cook, we will order pizza.
I am grateful that I can feed my child every day.