Church in Wales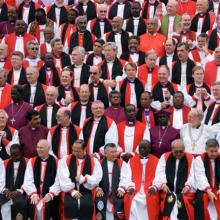 John, a 64-year-old theologian and dean of St. Albans Cathedral, has made no secret of his own homosexuality, and is in a civil partnership with another priest, a relationship he says is celibate. He has also made clear his support for same-sex marriage.
That has made John the subject of hard-liners' ire. Supporters say his honesty about his homosexuality, and his views about same-sex marriage, have cost him the bishop's seat, while some other bishops are known to be "quietly gay."
The decision by the Church in Wales to consecrate women bishops means the Church of England — the mother church of the worldwide Anglican Communion — will be the last in Britain to admit women as bishops.
Cheers erupted in a hall at Lampeter, Ceredigion in Wales, when the 144-member governing body of the Welsh church announced the result of the vote on Thursday. A similar bill failed narrowly in 2008.