church bombing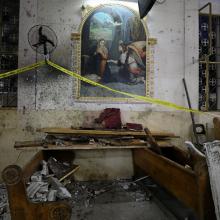 At least 44 people were killed in Egypt in bomb attacks at the cathedral of the Coptic Pope and another church on Palm Sunday, prompting anger and fear among Christians and leading to troop deployments and the declaration of a three-month state of emergency. Islamic State claimed responsibility for the attacks, which also injured more than 100 people and occurred a week before Coptic Easter, with Pope Francis scheduled to visit Egypt later this month.
They were among the youngest martyrs of the civil rights movement, four young black girls — three 14-year-olds and one 11-year-old — whose deaths in a church basement horrified a nation already torn apart by segregation.
This week, 50 years after the Ku Klux Klan bombing at Sixteenth Street Baptist Church in Birmingham, Ala., shook hopes for a colorblind country, the four girls are getting their due.
Addie Mae Collins, Cynthia Wesley, Carole Robertson and Denise McNair were posthumously awarded the Congressional Gold Medal on Tuesday (Sept. 10), a day after a piece of shattered stained glass from the church was donated to the Smithsonian.