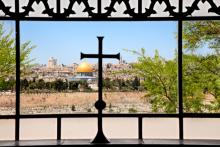 Is Christian Zionism good for the Jews?
Not every Jew thinks so.
In fact, Christian Zionists make many Jews crazy.
Why?
Worry No. 1: Christian Zionists believe all Jews need to be back in the land of Israel before Jesus can return.
Except it's not true.
I once asked Ralph Reed, the prominent conservative activist and founder of the Christian Coalition, about this.
"Rabbi, I've been in church every Sunday of my life and I have never heard such a thing," he said.