Christian fiction
Every so often a fiction book makes a splash in the swamp of Christian literature, which is predominately ruled by non-fiction reads. The Shack by Wm. Paul Young would be one modern example and, reaching back just a bit more, In His Steps by Charles M. Sheldon would be another.
It's happened again.
Frank Schaeffer's And God Said, "Billy!" is a work of Christian fiction that just barely fits into the "Christian" sub-category of fiction. That's not to say it doesn't come with a heavy dose of Christian characters and culture (it does) as much as it is to say, unlike the other must-read fictions of the past that I just mentioned, this book could and should have a much broader appeal. So much so, I almost titled this review, "The Book Everyone Needs to Read ...".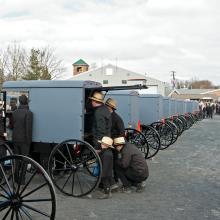 Who knew the Amish would become such a center of pop-cultural attention?