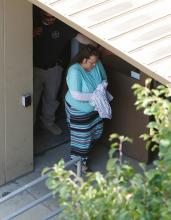 Kim Davis, the Rowan County, Ky., clerk jailed for five days for refusing to issue marriage licenses to same-sex couples, identifies as an Apostolic Christian and attends Solid Rock Apostolic Church in Morehead, Ky.
But what's an "Apostolic Christian" and why does the group object to same-sex marriage? Let me 'splain:
Q: Who are Apostolic Christians?
A: The term could refer to any one of a few different groups, including the Apostolic Christian Church or the Apostolic Pentecostal movement, also known as Oneness Pentecostalism. Solid Rock's website was down Sept. 9 and a busy signal greeted anyone trying to reach the church. But it is listed on a worldwide directory of Apostolic Pentecostal churches and ministries.