choreography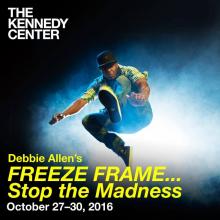 The project which Allen spoke of, titled Freeze Frame…Stop the Madness, is a work of theatre written, choreographed, and directed by Allen that combines cinema, dance, and music into a stage performance inspired by the issues of race and gun violence in America. Freeze Frame opened at the Kennedy Center for the Performing Arts in Washington, D.C. on Oct. 27 and, on Oct. 24, Allen visited the Center for American Progress, in the nation's capital, to discuss Freeze Frame's creation and the impact she hopes the show will have on the U.S.
Right there, in the middle of piles of fried chicken and biscuits, campers broke out in song, complete with choreography. Suffice it to say it's simple enough and cumulative in its themes so that pretty much anyone can get the idea within a verse or two.
We keep talking about the changing face of church and how ministry is going to look different going forward; what if this is it? Not that I expect this is "the" model for how to do church from here forward, but there's something to this "flash mob" concept, breaking out spontaneously into something that draws others in, right here, right now, where we are.
But we might get weird looks. We might even get in trouble.