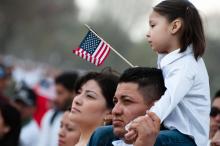 Within the next couple of weeks the Supreme Court will rule on the constitutionality of Arizona's anti-immigrant law, SB1070, which mandates racial profiling by police officers and deputizes them to act as an extension of ICE (U.S. Immigration and Customs Enforcement). 
Since the passage of SB1070, states across the country have introduced copycat measures into their state legislatures. Chief among them was Alabama's HB658—the most draconian measure of them all. The crafters of HB658 intentionally pushed immigrants to the point where life was so miserable in their state that they chose to "self-deport."
This week our nation is witnessing a new level of low. Even as we await the Supreme Court's ruling on states' rights to pass their own immigration laws, some Senate Republicans are arguing for two sets of federal legislation even worse than the state bills. These new federal bills aim to take money and food from children—American children.