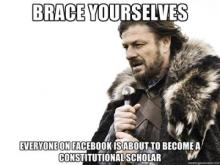 Brace yourselves. I'm about to step on a soapbox.*
Much as I'd like to go all armchair-Constitutional-scholar and argue that access to affordable health care SHOULD be in the same category as education, fire-fighting, and law enforcement, I'm not going to.
I'm just going to tell you what has happened in MY family.
February, 2005, California
Pregnant with first child. Am on crappy private insurance that costs like $500 a month in premiums but covers almost nothing. Calculate that cost of having child will be approximately half our yearly income.
Freak out.