child brides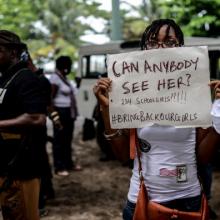 The first time I heard the news about the 270 Nigerian school girls who had been kidnapped by Boko Haram was last Sunday. I was sitting with the rest of the band at St. Augustine's Catholic Parish during worship. Fr. Gabriel, a priest from Nigeria, was preaching. In his sermon, he offered a litany of events, incredibly difficult events that had transpired in the preceding week as examples of how God does indeed respond when we are in our darkest moments. No matter how we may doubt, fear, or struggle, Jesus will walk through walls to get to us.
All the other events he listed I had heard of. There had been media coverage. People had been given the opportunity to respond to the needs of others.
The girls were kidnapped by Boko Haram on April 14. I had not heard the news until April 27. And it still wasn't in the papers.
This week I heard the words of Cleopas, "Are you the only stranger in Jerusalem who does not know the things that have taken place there these days?"
So, like the stranger in our story, I asked, "what things?"
According to reports in The Guardian and Smithsonian Magazine 's website , the girls are being sold as brides across the border in Cameroon and Chad for the equivalent of $12 each. This means, of course, that the girls are being sexually assaulted.
Boko Haram is a loosely knit organization. There appears to be no specific hierarchy, only the desire to carve out of Nigerian territory a so-called "pure" Islamic state. Their vision is beyond radical. Violence against other Muslims is not uncommon. They target churches and mosques with the same viciousness. This time they targeted the last school left in the region. They targeted the girls. Translated, Boko Haram means "western education is sinful." To educate girls, then, is a form of Western education. To educate girls is a sin. To sell them across the border is not.
And they need women. They need brides. The girls are being sold. Sold.