chemical warfar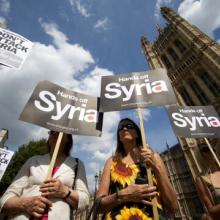 On Wednesday, President Barack Obama said that if Bashar al-Assad used chemical weapons against innocent civilians, there must be "international consequences." The president is right. But what should those consequences be?
The issue here, again, is one that we have not decided how to deal with: terrorism. The definition of terrorism is deliberate and brutal attacks upon innocent people — whether by individuals, groups, or heads of state. By that definition, Assad is a terrorist. And terrorists who possess weapons of mass destruction and demonstrate their willingness to use them are most dangerous ones. But how should we respond?
I am in in the U.K., where political leaders last night backed off the decision to make immediate "military strikes" while the U.S. and other nations are considering them. The feeling here is that international and legal legitimacy need to be established first, that the U.N. inspectors should finish their examinations in Syria before any actions are taken, and that all other means of response should be fully explored first. These are good decisions.
Why is there such public "war fatigue" in the U.K. and the U.S. in light of Iraq and Afghanistan — and why is that creating reluctance to more military action? Because wars and military solutions have FAILED in response to terrorism — failed to achieve what they were purported to do.