Chasing Ice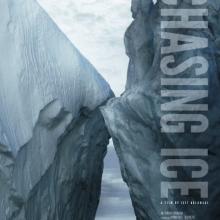 Photographer James Balog has a story for you, and it might be one you haven't heard before. Starting in 2005, he and a team of adventurous photographers set out to provide visual, undeniable evidence for climate change. What they found he described as "decrepit old men falling into the earth and dying:" glaciers worldwide disappearing at record rates.
The film Chasing Ice is the story of their Extreme Ice Survey as they place time-lapse cameras on glaciers in Greenland, Iceland, Montana, and Alaska, and watch as they disappear. The public does not want statistics, they say. The public is being misled to believe that scientists do not agree on climate change. The public is losing interest but needs to pay attention.
As Balog and his team will tell you, the memory cards in their cameras contain the memories of the landscape, a "limitless universe of forms," that will never be seen again. Man-made climate change (as documented by ice cores from the very glaciers that may not exist in a few years) is fundamentally altering our geology.