cause and effect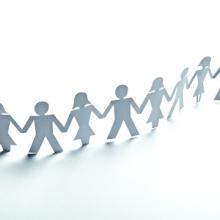 I've been having little arguments with myself all week: on one hand, like many good Americans, I believe in the idea and potential and creativity and wonder of individuals. I believe that the mind, for example, is a fathomless miracle. I believe that individuals have certain rights to freedom and self-determination.
Yet at the same time, everything that we are has been given us. We carry in our bodies the genes of thousands if not millions of ancestors; we have been brought to this moment — every moment — by people whose care and attention and patience have loved us imperfectly along. And, of course, by the God who has loved us into being.
Those of us who have the gift of being able to read and write often also have the ability to learn and to choose — to choose where to live and with whom, to choose what to think and to believe and to consume. And that, compared to how most people have lived and do live, is an almost unimaginable luxury. We can choose.