Castel Gandolfo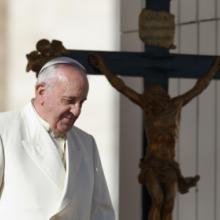 Pope Francis has been working nonstop since his election more than a year ago, and he has shown remarkable resilience for a 77-year-old confronted with an array of church crises. But he is also fatigued at times and his advisers are hoping that he will take a break this summer.
"We have been asking him to have holidays this year," Cardinal Oscar Rodriguez Maradiaga of Honduras told reporters during a visit to Washington this week. "Because last year he didn't and sometimes he's very tired."
"So I think that during August he's going to retire to rest," said Maradiaga, who heads a kitchen cabinet of eight cardinals from around the world that Francis established as his top advisers.
Breaking with another centuries-old tradition established by his predecessors, Pope Francis will remain in Rome during the summer and endure the usually stifling heat of the Eternal City.
The Vatican's chief spokesman, the Rev. Federico Lombardi, announced on Thursday that the pope will not move to the papal villa of Castel Gandolfo, where previous popes usually spent at least part of the summer.
The villa, boasting expansive gardens, a working farm, and a private helipad, was a favorite retreat of Francis' predecessor, Benedict XVI, who used to spend three months there, from early July to the end of September.