cardinal keith o'brien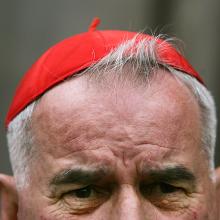 Scottish Cardinal Keith O'Brien, who was accused of sexually harassing several men in a scandal that exploded on the eve of the 2013 conclave that elected Pope Francis, has renounced the "rights and privileges" of his office but may keep his prestigious title, the Vatican announced March 20.
O'Brien did not take part in the March 2013 conclave and now he will be barred from any future conclaves. At age 77, he would have lost his voting eligibility at age 80.
Francis had been under pressure to take some action against O'Brien since one of his victims revealed that an internal church report on O'Brien had been sent to Rome and was "hot enough to burn the varnish" off the pope's desk.
At least five men — three priests, a former priest, and a former seminarian — accused O'Brien of either sexually harassing them or pressuring them into sex, in allegations that went back to the 1980s. O'Brien was accused of being sexually active up through at least 2009.
Those were also the years in which O'Brien became increasingly outspoken in his denunciation of homosexuality and gay rights; he called to homosexuality a "moral degradation" that was "demonstrably harmful" to gay people. In response, the gay rights group Stonewall crowned O'Brien "bigot of the year."
When Pope Benedict XVI accepted O'Brien's resignation as one of his last official acts before retiring, O'Brien admitted "there have been times that my sexual conduct has fallen below the standards expected of me as a priest, archbishop and cardinal."
Adding to the urgency for Francis to take further action were recent reports that the Archdiocese of St. Andrews and Edinburgh, which O'Brien headed until he resigned in the wake of the initial revelations, had spent nearly $300,000 on a retirement home for O'Brien in northern England.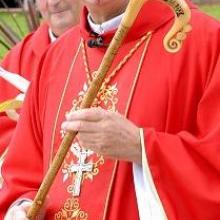 Days after pulling out of the conclave to elect the next pope and vowing to fight the charges against him, disgraced Scottish Cardinal Keith O'Brien admitted Sunday to inappropriate "sexual conduct."
O'Brien, who until a week ago was the highest-ranking Roman Catholic cleric in England and Scotland, had served as archbishop of St. Andrews and Edinburgh for the last seven years and was made a cardinal in 2003.