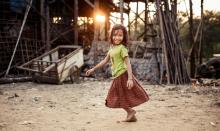 My difference catches me off-guard. Entering into new situations, I'm just being myself — not suspecting anything, doing the things that I do — when an odd, slightly off comment, a stray remark makes me realize that the person across from me is not interacting with me. Instead, they are interacting with a perception of who they think people like me are: Asian, woman.
And usually that perception does not include "leader."
I'm different sounding. I'm different looking. I'm different leading.
As a leader, one question has helped me try to stay in my sweet spot and stick to my true voice, even when it's different from those around me. What is the unique joy that I bring to God's heart? When I feel the blister forming from too many frictional interactions, it's this question that takes me back to my center.
Embracing the differences God gave me to steward, to shelter in my body, I continue on, knowing that perhaps for someone, somewhere, this will be a good fit.