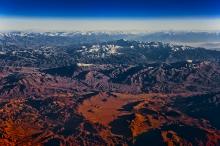 On this fast day, I remember that many U.S. people worry — like anyone anywhere — about the hardships a new day may bring, in a dangerous and uncertain time that seems to be dawning on every nation and the species as a whole. In the U.S., we carry the added knowledge that most of the world lives much more poorly — in a material sense, at least — than we do, and that were the sun to truly rise upon the U.S., with familiar words of equality and justice truly realized, we would have to share much of our wealth with a suffering world.
We would learn to "live simply so that others might simply live." We would find deep satisfaction in beholding faces like those of my friends gathered for a friendly morning meal before a day of voluntary fasting. Or, like Mohamedou, we would find warmth in the imagined breath of others sharing involuntary hardships.
"Another world is not only possible," writes author and activist Arundhati Roy, "she is on her way. On a quiet day, I can hear her breathing."
People living in the U.S. must know that life in the daylight might also be the start of an unaccustomed fast.