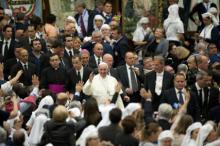 Pope Francis will be accompanied on his first visit to the Middle East by Argentine Rabbi Abraham Skorka and Muslim leader Omar Abboud — two friends from Buenos Aires.
It is the first time a pope has made an official visit accompanied by members of other faiths, and it underscores the interfaith focus of Francis' trip to the Holy Land, the Vatican said Thursday.
"This dimension of interreligious dialogue has great significance," the Vatican's official spokesman, the Rev. Federico Lombardi, told the media.