Buddhist monk
Authorities in Thailand are preparing to arrest and possibly defrock a senior Buddhist monk on charges of insurrection and breach of Buddhist discipline for leading anti-government protests.
Police on Tuesday asked a criminal court to authorize the arrest of Luang Pu Buddha Issara for laying siege to government offices in Bangkok's Lak Si district and obstructing voting during last week's general elections, the National News Bureau of Thailand reports.
Issara, a 58-year-old monk from the Wat Or Noi temple in the central province of Nakhon Pathom, is a leader of the People's Democratic Reform Committee that is seeking to topple the government.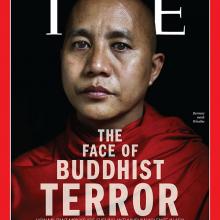 A radical Buddhist monk in Myanmar said a bomb that exploded near him, wounding five devotees, came after a death threat by a "Muslim religious leader" who wanted to silence his campaign to prevent Buddhist women from marrying Muslim men.
Ashin Wirathu's portrait appeared on the July 1 cover of Time magazine's Asia edition, above the headline, "The Face of Buddhist Terror: How Militant Monks are Fueling Anti-Muslim Violence in Asia."
"Since their plan to fight me via Time Magazine has failed, they are now targeting my 'dharma' [Buddhist teaching] events, and the devotees, with explosive devices," Wirathu told the respected Irrawaddy magazine.