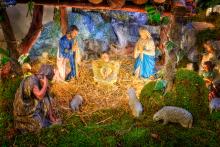 Figures in nativity scenes are pretty weird, aren't they? This is true of most manger scenes, whether we're talking about the ceramic one under a tree or the statuesque one in a church or the plastic one on a lawn. First off, there's Mary, always looking very fresh and calm and full of reflection — which is quite impressive considering that she just gave birth without any sedative. Then there's Joseph, doing some kind of man-thing off to the side — holding a lantern or a large stick. He looks totally composed, too.
And there's the baby Jesus with a full head of hair, wide-open eyes and arms outstretched like he's ready to belt out a song.
Not to ruin anyone's Christmas spirit here, but what the heck?
If our manger scenes were realistic, Mary would be recovering from a painful labor full of sweat and blood, with a look on her face that's anything but serene. And Joseph — wouldn't he be a nervous wreck, too? His hand too shaky to hold a lantern?
And about that newborn. Shouldn't he be red-faced and screaming? Eyes clenched closed and wisps of hair stuck to the top of a head that's still odd-shaped from all the squeezing?
Instead, we've sanitized and romanticized it. We've removed all the blood and sweat and tears and pain and goo. It's no longer something real. We've left out all the messy parts. The oh-my-God-what-now parts. The I'm-screaming-as-loud-as-I-can-because-it-really-hurts parts. The oh-no-I've-stepped-in-the-animal-droppings parts. 
The real parts.