Bradley Wright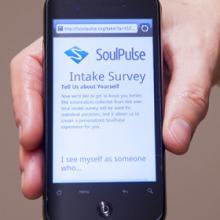 Folks who have just knocked back two drinks say they're really aware of God at that moment.
And good sleep enhances a sense of God, joy, peace, and love.
Who knew?
Actually, about 160 people, so far, know such details about their spiritual lives. They were the first participants in SoulPulse, a newly launched, ongoing study of spirituality in daily life.
It's an "experiential" research survey inspired by pastor/author John Ortberg and conducted by a team led by Bradley Wright, an associate professor of sociology at the University of Connecticut and author of Christians Are Hate-Filled Hypocrites … and Other Lies You've Been Told.
Twice a day for two weeks, participants receive questions asking about their experiences of spirituality, their emotions, activities, and more at the moment the text messages arrive.