book of enoch
I'll begin by cutting to the chase: Forget most of what you've read about Darren Aronofsky's new film, Noah. It opens Friday. Go see it and decide for yourself.
Having said that, in my opinion Aronofksy's Noah is a beautiful, powerful, difficult film worthy of the "epic" label. A vivid, visually spectacular reimagining of an ancient story held as sacred by all three Abrahamic religious traditions, it also is the most spiritually nuanced, exquisitely articulated exploration of the ideas of justice and mercy I've ever seen on a movie screen.
And despite what you may have heard elsewhere, Noah is deeply, passionately biblical.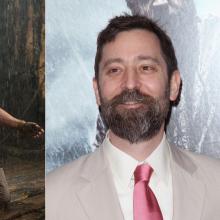 Last Sunday in Los Angeles, Cathleen Falsani sat down with Ari Handel, a screenwriter and frequent collaborator with Noah director Darren Aronofsky, with whom he co-wrote the film and the graphic novel, Noah, upon which it was based, to discuss some of the extra-biblical elements of the $150 million movie.
Longtime friends Handel and Aronofsky were suitemates at Harvard University. Before becoming a screenwriter and film producer, Handel was a neuroscientist. He holds a PhD in neurobiology from New York University. He was a producer on Aronofsky's films Black Swan, The Wrestler, and The Fountain (which he co-wrote with Aronofsky), and had a small role as a Kabbalah scholar in the director's debut film, 1998's Pi.
Editor's Note: The following Q&A contains some spoilers about the film. It has been edited for length.