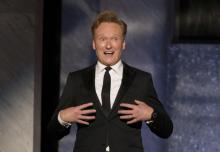 "The California drought is so bad, people in Napa are asking the pope to change the wine into water."
That joke, courtesy of late-night TV host Conan O'Brien, is the warmup to a new "Joke with the Pope" digital campaign, encouraging people to "donate" a joke to support one of three causes ahead of Pope Francis' historic U.S. visit.
The campaign, which begins Sept. 8, is being launched by the Pontifical Mission Societies in the United States and precedes the release of its new mobile app, Missio. The mission societies work to spread the Catholic faith overseas, especially in poor and remote areas.