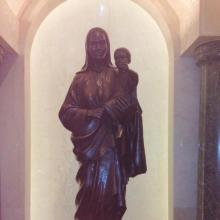 "Princes shall come out of Egypt; Ethiopia shall soon stretch out her hands unto God." -Psalm 68:31
The Bible is a multicultural book. This statement may sound controversial but archeology, history, and the text prove it to be true. In 2013 this controversy played out in the media when viewers of The Bible miniseries were upset that Samson was played by a black man. A second controversy occurred when a Fox News broadcaster confidently declared that Santa Claus and Jesus were white, yet when people researched original depictions of Saint Nicolas, they found pictures of a dark brown man. It appears that our faith has been distorted. As we celebrate Black History Month and prepare for Lent, how can uncovering the black presence in the Bible aid us in mourning against the sin of racism? One of the effects of racism is the whitewashing of history and sadly this has taken place even in our biblical studies.
The Roman Catacombs show biblical scenes painted by first- and second-century persecuted Christians, and their paintings clearly show people of color. What would Roman Christians gain from painting these characters black? What did these early Christians know and accept that seems unbelievable today?