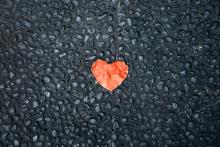 The Christian journey of Lent is upon us. Lent commemorates Jesus' journey into the wilderness. After his baptism, where Jesus heard the voice of God say to him, "This is my Son, the Beloved, with whom I am well pleased," Jesus was led by the Spirit into the wilderness. After 40 days of fasting, he was tempted by the devil.
In good mimetic fashion, Jesus had received his true identity from God at his baptism. As radically relational creatures, mimetic theory claims that we receive our identity in relationship with others. If you were to ask me to identify myself, I would respond by referring to my relationships — I am a husband, a father, a son, a friend. Even when we identify ourselves by what we "do for a living," relationships are implied. An accountant, for example, helps people allocate their financial resources. Our very identity as humans, and everything we do, is dependent upon our relationships with others.
I hope that mimetic theory's emphasis on human relationality seems obvious, but it actually runs against the modern grain. René Descartes gave the impetus for the modern world with his statement "I think, therefore I am." But that statement is false. You don't exist because you think for yourself. You exist because you are related to others.
Jesus received his identity as the Son of God from his relationship with his heavenly Father, but in the wilderness he was tempted to doubt that relationship. The story tells us that "The tempter came and said to him, 'If you are the Son of God, command these stones to become loaves of bread.'"
If. It's such a small word, but don't be fooled by its size. If is loaded with significance. The devil tempted Jesus three times. Each time the devil used the word "if." And each time the devil tried to seduce Jesus into doubting his identity as God's Son.