Aung Sun Suu Kyi
The Nobel laureate and human rights advocate Aung San Suu Kyi entered the Myanmar Parliament this week, shortly after her party, the National League for Democracy, won the country's first free election in 25 years.
In those 25 years — since the 1990 election, which the NLD also won — Aung San Suu Kyi spent a total of 15 years without her freedom, having been placed under house arrest by the ruling military government which ignored the election results.
Since 1988, Ms. Suu Kyi has led nonviolent opposition to the military government. Last week's landslide election results, which took the ruling generals by surprise, demonstrate once again that nonviolence is a force more powerful than violence.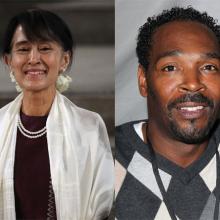 In 1991, Rodney King was stopped and beaten by a group of Los Angeles police officers. The stop was not unusual, and the beating was a tragic reminder of the history and the reality of police brutality in the United States. The difference this time was that the beating was recorded on videotape. Rodney King became a symbol of racist injustice perpetrated by ordinary people, of injustice perpetrated by law enforcement.
Also in 1991, the Norwegian Nobel Committee awarded the Nobel Peace Prize to Aung Sun Suu Kyi, a Burmese activist for democracy. Under house arrest at the time, she could not travel to Oslo to receive the award. She was then and is today a symbol of patient persistent witness against oppression and for human rights.
On June 16, 2012, Aung Sun Suu Kyi received her 1991 prize in Oslo. On June 17, 2012, Rodney King was found dead in the swimming pool of his home. Both of these individuals are important because of their choices for peace.