Atonement
Before the game, we witnessed a moment of nonviolent Atonement.
She was 85 and nearing the end of her life. I'd never met her before. You might call her a "lapsed Christian," or maybe she was one of the "nones." She hadn't been to church in decades. She called for a visit because she had anxiety about death. But what broke my heart was her anxiety about God.
"Hi," I gently greeted her.
"Hello pastor," she replied. She began telling me about her Catholic parents, her "fall" from Catholicism, and that she'd never felt "at home" in a Protestant church. She stated that she hadn't stepped into a church in thirty years, and her relationship with God had suffered for it. And now, on her death bed, she felt the weight of guilt and anxiety of abandoning God.
"I'm not in a state of grace," she said with spiritual and emotional pain.
That's when my heart broke. She felt guilty because she believed she had abandoned God and so God had abandoned her. I began to think of all the damage many religious people have caused throughout the centuries by imposing guilt upon people. A religion that piles on the guilt isn't worth following. A god who inflicts guilt upon us isn't a god worthy of belief.
There is a pernicious theological claim that states God responds mimetically to us. That God imitates us. So, when we turn away from God, God turns away from us. When we abandon God, God abandons us.
That's a lie. Don't believe it.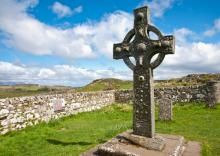 Biting and unbelieving comedian Bill Hicks challenged Christians about wearing crosses around our necks. He chided us that when Jesus comes back, the last thing he would want to see is another cross. Not unlike Hicks, liberal theologians get squeamish about the saving power of the cross and distance themselves from it with critiques that attack academic euphemisms like blood atonement.

My friend, colleague, and our "religion and culture" book-discussion leader assigned our Sunday school class homework this week: Consider and contemplate our understanding of and relationship with the cross. And do this in the context of a compelling and challenging chapter called "The Cross as Futility, Not Forgiveness" in an excellent and provocative book we're reading by Robin Meyers called Saving Jesus From The Church: How to Stop Worshiping Christ and Start Following Jesus. This post serves as part of my response to that homework.

Crosses as powerful symbols predate Christianity and are not the singular insignia of our faith. Some Christians prefer the fish to the cross as an identity marker for Jesus followers. I confess I simultaneously love the empty cross and accept brutality of the bloody crucifix. As contradictory and ubiquitous its grip on our consciousness, we cling to it in comfort. As theologically problematic as we might render its salvific power, we sing of "the rugged cross" and need "nothing but the blood." 

From my enormous sympathies for Meyer's intentions and investigations, I'm ultimately left lingering with discontent at his conclusions. I easily devoured Saving Jesus, and alongside my mixed reactions to the text, our class discussions have helped me to wrestle with not just my responses to the book in particular but to clarify my faith and theology more generally.
Good Friday. Is this something we can understand? What makes it so "good?"
Sure, we have theologies about this moment in history. We have systematic notions about why who and what. We tell the story every year. Some traditions reenact the tale more than once a year. If you attend a church from one of the "liturgical" traditions, you here the story told during the Eucharist every Sunday. "Christ has died. Christ has risen. Christ will come again." It's the Paschal Mystery told again and again.  I also know some baptist preachers who tell the story of the Passion of Christ every Sunday. It is the Gospel, after all. This story, the Passion, is The Gospel for many of us Christian preachers. And to not share the Passion is to not share The Gospel. If their sermons don't end with the proclamation of the sarcifice of Jesus, well, then it just isn't Church.
I'm still sharing that e-unspoken part of my faith again. This is not new. Nor is it unintegrated with the rest of my Christian spirituality. It's actually essential to it. So, in the spirit of clarity, I'm sharing this stuff with you.
I have no idea what Jesus meant by giving himself over like this. We read the scripture last night at the Maundy Thursday service at First Baptist. "Not my will but your's." Lord, have mercy. Someone asked the question as someone does every year, "Why would God want Jesus to die? If it's God's will...Why would God will this to happen?" I have some practiced answers. This year I offered them as I usually do. 
"First, let me tell you what the tradition says..." I give a theological gloss and watch their eyes glaze over. Right. Of course. This isn't an answer any more than a stump speech is an indication of what will actually happen if one of these people in the news are elected to public office. So, I move on.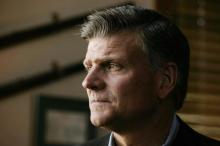 When Franklin Graham expressed doubts about President Obama's Christian faith during and interview on Morning Joe last week, it reminded me of an uncomfortable dinner I had in the late '90s.
I sat down for a pleasant meal in the home of two great friends — one of them a white evangelical faith leader deeply committed to social justice. Well into the evening's conversation —when we'd dropped all our pretenses and our exchanges moved well past mealtime niceties — one friend asked me something that caught me entirely off guard.
"Do you think Martin Luther King, Jr. was a Christian?" he said.
I was dumbstruck. I had never heard anyone actually ask that question before.
"Yes," I replied. "What would make you doubt that?"
As he explained, it became clear: My friend wasn't sure whether Dr. King was a Christian because King's Christianity didn't look like my friend's Christianity.