atheletes
Few people in my life would likely make the mistake of characterizing me as a naturally disciplined or pious person. Zealous, maybe. Pious, no. I've tended to live life in a passionate pursuit of a particular direction only to stumble, fall, get back up, and run a different way (not necessarily opposite, just different).
Thus, it has been an interesting experience for me this Lent to spend time reading, writing, and reflecting on discipline and ascetic practices. This stumbling and turning has often felt like an aimless back and forth, but in these weeks of reflection, it has been encouraging to look back and see growth. While the back and forth has been real, what has seemed like "just meanderings" have turned out to have some forward direction.
Father Richard Rohr gives this encouragement, "The steps to maturity are, by their very nature, immature."
As we look back, each step behind us is going to seem immature, maybe even like a mistake. Hitting our head and saying "God, I was such an idiot back then," is evidence of grace at work in our lives. The ability to see the ways we failed that were invisible to us at the time, is a sign of our growth in wisdom and discernment. This is often hard for me to accept.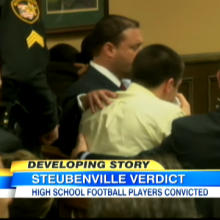 (Note: This post contains some frank and graphic discussions of sex and sexuality.)
Two boys from a Steubenville Ohio high school (I've opted not to use their names, though they are readily publicized by other media) have been sentenced to time in a juvenile detention center for the rape of a 16-year-old classmate who was reportedly so drunk at a party that she could no longer stand on her own. Aside from "digitally" raping the girl with their hands, reportedly multiple times, one of the boys took photos of the girl without her clothes, shared them via social media, and both young men bragged about the incident to their social networks following the incident.
As the father of both a boy and a girl, I was particularly angered and disturbed by this story. The very fact that such things happen in a supposedly civil society is a stark reminder that we have only a tenuous hold on the well-being of our kids once they leave our sight. We can only hope and pray that we've empowered them with the sense of autonomy, respect, compassion, and restraint to keep them either from becoming victims of such violations, or perhaps even perpetrators of it themselves.
But once I get beyond my initial feelings about the whole situation, I'm left wrestling with a number of questions that still feel terribly unresolved.