assisi, italy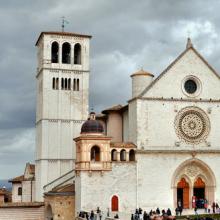 Ancient stones, steep stairs, and sparkling fresh air greeted me upon arrival in Assisi, Italy, a month ago. Lush olive groves, leaves iridescent in the sun, offset the city stones. "What sort of place is this, that shaped St. Francis 800 years ago?" I asked myself. Eager to deepen my understanding of the saint, I had returned to Assisi to walk in the footsteps of St. Francis.
Profligate playboy, drama king, dejected knight, young Francis lived life large. He grew up in turbulent times, with civic unrest in Assisi and war with nearby Perugia surrounding him. Returning from a year as a prisoner of war in Perugia, sick and weak, Francis drifted. When he sold his cloth merchant father's wares to repair a church, his father chained him in punishment. Francis stripped in public, denouncing his father. Unlikely material for a saint.
Yet God shaped Francis over time, and Francis yielded. A simple saint, Francis wanted one thing. Nothing but God, he proclaimed, shedding all else. He chose a life of simplicity, serving the poor, and calling the church to reform.