artificial tree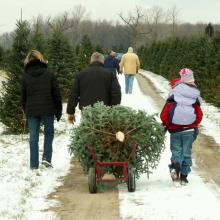 Some of my environmentally conscious friends have expressed concern about having a real Christmas tree in their house – it seems wasteful to cut down an entire tree just for a month or so of décor. After all, climate change is a huge problem, and its potential impacts on the world (most especially the poor) seem contrary to the Christmas spirit.
It's not a new worry – Teddy Roosevelt actually banned the White House Christmas Tree during his time in office, as he was worried about the conservation implications of people running out to cut down the forest.
We can rest easy, though – the live Christmas tree industry that has developed since that time is actually a benefit to the global climate. Here's why.