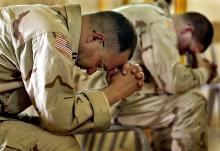 Chaplains who are part of the Army's first line of defense against suicide say they need more training in how to prevent soldiers from killing themselves, according to a Rand Corp. survey published online April 7.
Nearly all the chaplains and chaplain assistants surveyed said they have dealt with suicidal soldiers, and most said they encourage troubled soldiers to get help. Because of confidentiality, roughly half said they would be reluctant to alert someone in the chain of command about the soldier, and roughly a third said they would not call a crisis hotline for the GI.
In addition, the study found that chaplains and chaplain assistants hold some of the same negative views about therapy that often discourage soldiers from seeing a behavioral health specialist. Most in the survey agreed that service members who seek help for suicidal thoughts would be seen differently by their peers. About half said they would be embarrassed.
Researchers said they believe this may be why chaplains are reluctant to intervene when a soldier comes to them with signs of suicidal thinking.