Archbishop Pietro Parolin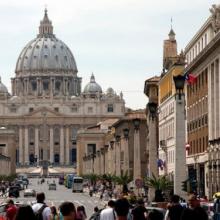 Pope Francis met for three hours with the heads of all Vatican departments on Tuesday, Sept. 10, signaling his desire to introduce more collaboration and transparency in the traditionally secretive and top-heavy governance style of the Catholic Church.
About 30 people attended, including the heads of the Vatican's eight congregations and 12 councils, as well as top officials from the church's tribunals and from the administration of Vatican state.
Cardinal Tarcisio Bertone, the Vatican's outgoing secretary of state, also participated, in one of his last official engagements before his successor, Archbishop Pietro Parolin, takes over on Oct. 15.