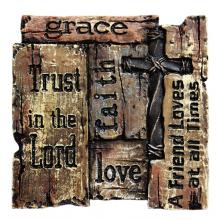 This is the final in a four-part series on the overused (and often insensitively employed) phrases that plague the Christian lexicon. Though I felt like I was offering some insight into what to do instead of offering these cliches, some asked for more specificity or clarity. So in that spirit, I thought I'd offer a final list of things to do rather than pop off with these phrases that may mean little or nothing to the recipient, or worse, may cause unintended – but lasting – harm.
Read article one in the series here: Ten Cliches Christians Should Never Use
Read article two in the series here: Ten More Cliches Christians Should Avoid
Read article three in the series here: Nine (Final) Christian Cliches to Avoid
Now, Ten Antidotes to Christian Cliches.