anti-Islam film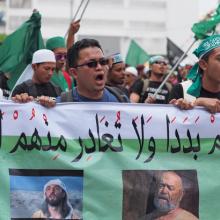 LOS ANGELES —The Egyptian-American man reportedly behind the anti-Islamic video that sparked weeks of Muslim protests worldwide was arrested and detained here Thursday (Sept. 27) over a federal probation violation.

Nakoula Basseley Nakoula, a 55-year-old Coptic Christian and onetime gas station owner, was placed in federal custody by U.S. Central District Chief Magistrate Judge Suzanne Segal over eight alleged probation violations stemming from his 2010 check fraud conviction.
Nakoula's probation violations include use of aliases and lying to probation officers; with new charges, he may serve another two years on top of the 21 months he served after the 2010 fraud conviction. Nakoula also had been barred in that case from going online or using computers for five years without probation officer approval.
Nakoula has said that he was the producer of the film, "Innocence of Muslims," which depicts Islam's Prophet Muhammad as a child-molesting, adulterous fraud. Muslims worldwide have protested the film since a trailer posted on YouTube was broadcast in Egypt.