anti-homosexual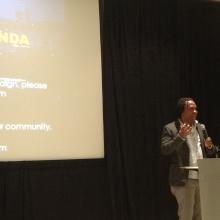 When Ugandan parliament member, David Bahati, introduced the so-called "Kill the Gays Bill" in 2009, many Americans were shocked, including a group of 60 ecumenical Christian leaders who released a statement deploring the bill.
But as Frank Mugisha told Sojourners magazine earlier this year, what is perhaps more upsetting, albeit little known, is the level of influence American evangelicals have had in crafting Uganda's violent homophobia.
Academy Award-winning director Roger Ross Williams hopes to put this issue front and center with his new film God Loves Uganda, which made its Washington, D.C., premiere Tuesday night at the Human Rights Campaign headquarters.
The film opens with Rev. Kapaya Kaoma, an Episcopal priest from Boston by way of Zambia, who went to Uganda in 2009 to study the relationship between American conservatives and the Ugandan people. What he found was that "religion was being used to demonize and even to kill."