angela merkel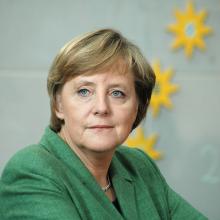 Time magazine's 2015 "Person of the Year" is a self-identified conservative Christian, but not one of the many running for president of the United States. While the dynamics of faith and politics are different in Europe, German leader Angela Merkel is an example of a conservative Christian living out her faith in the public square quite differently than we see in the U.S.
Time, which calls her "Chancellor of the Free World," characterizes her strong leadership of economic and political crises in Europe as "no flair, no flourishes, no charisma, just a survivor's sharp sense of power and a scientist's devotion to data." She may be a quantum chemist, but she's also an Evangelical Lutheran preacher's kid with an unwavering faith.
As if it wasn't chilling enough to learn that NSA cronies are poring over your web browser history, now we discover that Barack Obama sits in bed at night and listens in on German Chancellor Angela Merkel's cell phone calls to Domino's.
Okay, maybe those are a bit of a stretch, but quite a buzz has been generated as of late about the revelation that the United States does, indeed, monitor the communications of leaders from allied nations, including the cell phone activity of Chancellor Merkel. For some, the collective reaction has been more of a collective shrug, as if such impositions should be expected from a global superpower that generally prefers to maintain that status. But for others, there's a clear sense of shock and outrage.
For starters, let's clarify: nations cannot be friends.