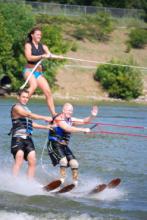 In the wake of the Boston Marathon bombings that left three dead and more than 260 injured, perhaps none face more significant adjustments or a longer road ahead than the 14 amputees who lost a limb.
For these victims, the path forward involves relearning almost everything, from getting out of bed to getting in a car. Whether they go on to lead satisfying lives depends largely on how they handle the spiritual challenges at hand, according to amputees and researchers.
Losing a limb is like losing a family member: It involves grief and mourning, according to Jack Richmond, a Chattanooga, Tenn., amputee who leads education efforts for the Manassas, Va.-based Amputee Coalition. When one's body and abilities are radically changed, questions of meaning are suddenly urgent: Why did this happen? Why am I here?
"You're wondering: Why did I live?" said Rose Bissonnette, an amputee and founder of the Lancaster, Mass.-based New England Amputee Association, a support organization for amputees.