Amman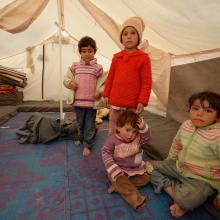 Our ministry with the Mafraq Church helped us see the desperate need for volunteers and funds to help the Church continue this vital ministry. Thousands of Syrians continue to make their way to Jordan fleeing the violence. Already more than 500,000 Syrian refugees live in Jordan. The refugee camps are overcrowded. We visited the Zatari Camp that has become home to more than 130,000 people. As far as the eye can see, the visitor can observe row after row of tents and small mobile units. The main street is packed with refugees while numerous shops, vendors, makeshift hospitals, and NGO distribution centers have sprung up in response to the plight of the refugees.
Other refugees are finding temporary residence in rooms, apartments, and warehouses in towns and cities outside the camp. The number of refugees in Mafraq has even surpassed the number of Jordanian residents. Church volunteers distributed basic items such as mattresses, blankets, small gas cookers, and gas containers. In addition, we delivered food baskets containing $50.00 worth of groceries to each family we visited.
At the corner grocery in our Jabal al-Webdah neighborhood of Amman, a Syrian man in his early 20s now runs the meat and cheese counter. Ahmed (not his real name) is one of more than 150,000 Syrians who have fled to Jordan since his country's violence began in March 2011.
Young males seeking to avoid mandatory military service are one of the largest groups leaving Syria.
Ahmed wires his wages to his family in Syria and calls them each evening to be sure they are still safe. "The situation inside Syria is even worse than reported in the news," he laments.
A recent UNHCR report notes that, increasingly, Syrians are arriving in Jordan with only the clothes they are wearing and with few economic resources after months of unemployment.