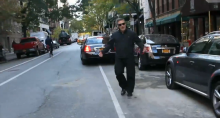 Alec Baldwin was caught on video venting his rage against a photographer and using a homophobic slur. I actually don't follow Alec on Twitter or keep up with celebrity news on TMZ, but apparently he's put similar slurs in writing. In this case, however, he denies using a homophobic slur, saying he is being misquoted. And as proof that he is not homophobic, in fact just the opposite, he points to his work on behalf of marriage equality with GLAAD. In defense of his actions in the video, he insists he was only defending his family's privacy — in the video we can clearly hear him shouting at the photographer to stay away from his wife and his baby. Here's a brief excerpt from his blog post in which Baldwin expresses his desire to protect his family and neighbors from media harassment:
I am concerned for my family. In Bloomberg's New York, forty or fifty paparazzi are allowed to block streets, inconvenience homeowners, workers and shoppers, and make life miserable for my neighbors. Photographers have tripped and fallen on babies in strollers on my block. They have nearly struck my wife in the face with microphones. They provoke me, daily, by getting dangerously close to me with their cameras as weapons, hoping I will react. When I do, the weapon doubles as a device to record my reaction. And then, apparently, I lose every time. 
And here's what the prominent blogger Andrew Sullivan had to say. He is among many who called for accountability from Baldwin, GLAAD and his current employer MSNBC. (At this writing MSNBC has suspended Baldwin's show for two weeks.) Here's what Sullivan said:
Look: Baldwin's anger… was thoroughly merited. But he continually resorts to this kind of homophobic poison when he's angry. Just as Mel Gibson revealed his true feelings about Jews in his drunken rant, so Baldwin keeps revealing his own anti-gay bigotry. These outbursts reveal who he actually is. (Emphasis in original)
So which is it? Is Baldwin a raging (literally) homophobe or is he a decent guy protecting his family and neighbors? Whenever I encounter an either/ or choice like this, I know I am in the presence of a possible scapegoating incident for three reasons.