airport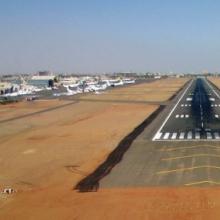 A Sudanese Christian doctor freed from death row on charges of apostasy Monday is not yet free after authorities detained her at a Khartoum airport.
Meriam Yahya Ibrahim, 27, was arrested Tuesday after she attempted to leave Sudan using South Sudan emergency papers, including a U.S. visa, according to reports.
She was apprehended along with her husband, Daniel Bicensio Wani, an American citizen of South Sudanese origin, and their two children — 20-month-old son Martin and a 1-month-old daughter.
How small my world gets when I'm not paying attention.