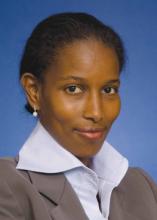 A campus appearance by Ayaan Hirsi Ali, the outspoken Muslim-turned-atheist activist, is being challenged again, this time at Yale University where she is scheduled to speak Sept. 15.
While her previous campus critics have included members of religious groups, especially Muslims, this time the critics include Ali's fellow ex-Muslims and atheists.
"We do not believe Ayaan Hirsi Ali represents the totality of the ex-Muslim experience," members of Yale Atheists, Humanists and Agnostics posted on Facebook Sept. 12. "Although we acknowledge the value of her story, we do not endorse her blanket statements on all Muslims and Islam."
Those statements include calling Islam "the new fascism" and "a destructive, nihilistic cult of death." She has called for the closing of Muslim schools in the West, where she settled after immigrating from her native Somalia, and is a vocal advocate for the rights of women and girls in Islam.