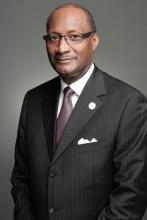 Since the Supreme Court ruled that same-sex marriage is constitutional, the Rev. Jerry Young has been in a quandary.
As the president of the National Baptist Convention, USA, a predominantly black denomination, he is grappling with a new reality: how to respond to the specter of discrimination against gays. While he doesn't support gay marriage, the refusal of some religious bakers and florists to provide services to gays prompts memories of racially segregated hotels and restaurants.
"On the one hand, you have to be sensitive to the fact that you do not want people to be victims of discrimination — that's just an absolute fact — you just do not want that to happen," said Young, who grew up in Mississippi in the civil rights era and is developing a position paper to guide NBCUSA congregations on these issues.
"And on the other hand, there is this tension between what, as Christians, we believe God has called us to do, and what it appears to be, in some sense, what the culture seems to be doing."