afghan children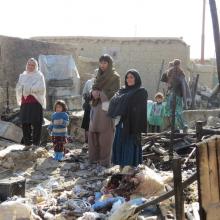 The fire in the Chaman e Babrak camp in Kabul, Afghanistan, began in Nadiai's home shortly after noon. She had rushed her son, who had a severe chest infection, to the hospital. She did not know that a gas bottle was leaking; when the gas reached a wood-burning stove, flames engulfed her mud hut and extended to adjacent homes, swiftly rendering nine extended families homeless and destitute in the midst of already astounding poverty. By the time seven fire trucks had arrived in response to the fire at the refugee camp, the houses had burned to the ground.
No one was killed. When I visited the camp, three days after the disaster, that was a common refrain of relief. Nadiai's home was on the edge of the camp, close to the entrance road. Had the fire broken out in the middle of the camp, or at night when the homes were filled with sleeping people, the disaster could have been far worse.
Even so, Zakia, age 54, who also lives in the camp, said this is the worst catastrophe she has seen in her life, and already their situation was desperate.
We remember that March is Women's History Month. Thank you for all the cherished women in our lives and in our histories: mothers, sisters, friends and neighbors.