affairs
AshleyMadison.com is an online dating site that boasts millions of users worldwide. While online dating has become commonplace in today's wired society, AshleyMadison has added a shocking twist to what has become mundane. Rather than promising to join together singles of similar faiths and interests, AshleyMadison.com is an online site for married people seeking extramarital relations. Its tagline is simple: "Life is Short. Have an Affair."
The majority of Americans view adultery as wrong, which, by extrapolation, means that most Americans can see the glaring immorality in AshleyMadison's business model. There are, however, many more reasons beside adultery to be concerned with AshleyMadison's creation and far-reaching success.
The founder and CEO of AshleyMadison.com, Noel Biderman, has been "happily married" for ten years to his wife, Amanda, and they have two children. Both he and his wife confess they would be "devastated" if the other used the website's services. When asked how she felt when Biderman first presented his idea for the website to her, Amanda recalled feeling concerned, thinking the idea implied something unhealthy about Biderman. However, once Amanda realized that it was a "sound business, that there was an [underserved] market," she was "totally behind" the website's creation.
The Bidermans actually see the website as altruistic: they believe that an affair can save a marriage.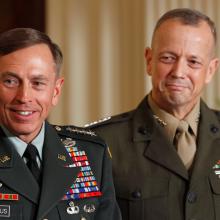 First, we had CIA Director David Petraeus being held over the fire for a possible affair with his biographer, Paula Broadwell. Then General John Allen, the top-ranking U.S. Commander in Afghanistan, drawn into the drama as allegations of indiscretions of his own with Jill Kelly (the credibility and severity of which remains to be determined), who also is linked to Ms. Broadwell and the related Petraeus drama. Then there's rumor of FBI agents sending shirtless pictures of themselves to women and … anyway, you get the idea.
As if all of that wasn't weird enough, now there's the matter of Kevin Clash, inventor of and voice for Sesame Street's Elmo, being accused by a young man of having an illicit relationship while the accuser was underage. The man has since recanted his claim, but not before Clash admitted to a consensual encounter with the accuser when he was of legal age, if just barely.
Why do they do it?