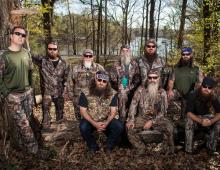 The "Duck Dynasty" family issued a statement Thursday evening supporting patriarch Phil Robertson and throwing the future of their successful hit reality show into jeopardy.
The A&E cable channel has put patriarch Phil Robertson, 67, on "indefinite" hiatus from filming after anti-gay remarks he made in the January issue of GQ erupted into debate about free speech.
Now the clan is thanking fans for their support, but isn't happy about the cable channel's decision.