A&E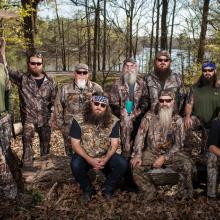 The "Duck Dynasty" family issued a statement Thursday evening supporting patriarch Phil Robertson and throwing the future of their successful hit reality show into jeopardy.
The A&E cable channel has put patriarch Phil Robertson, 67, on "indefinite" hiatus from filming after anti-gay remarks he made in the January issue of GQ erupted into debate about free speech.
Now the clan is thanking fans for their support, but isn't happy about the cable channel's decision.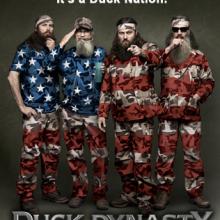 Hollywood producers often break every rule when it comes to publicizing faith and politics. But A&E's smash hit reality show, Duck Dynasty, puts it front and center.
A believer in God, family, and the nature of the outdoors, the show's Phil Robertson, 67, isn't afraid to talk religion on one of television's most popular programs.
In a July 20 appearance at
Saddleback megachurch
in Lake Forest, Calif., Phil and his son Alan, a Christian pastor of 20 years, stood before thousands of people to speak about the God that saved them from destruction.