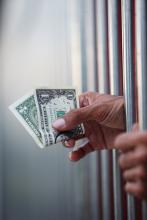 The American Civil Liberties Union of Ohio released Nov. 9 the first comprehensive study of the practice of charging people in jail for their time there, also known as "pay-to-stay" policies, reports the BBC.
The study revealed that some inmates have debts of up to $35,000, although the BBC found evidence that one man in Marion, Ohio owes $50,000 in pay-to-stay debt.
Pay-to-stay is not limited to the state of Ohio, however. With the exceptions of Hawaii and the District of Columbia, every state in the U.S. has a law authorizing the practice.